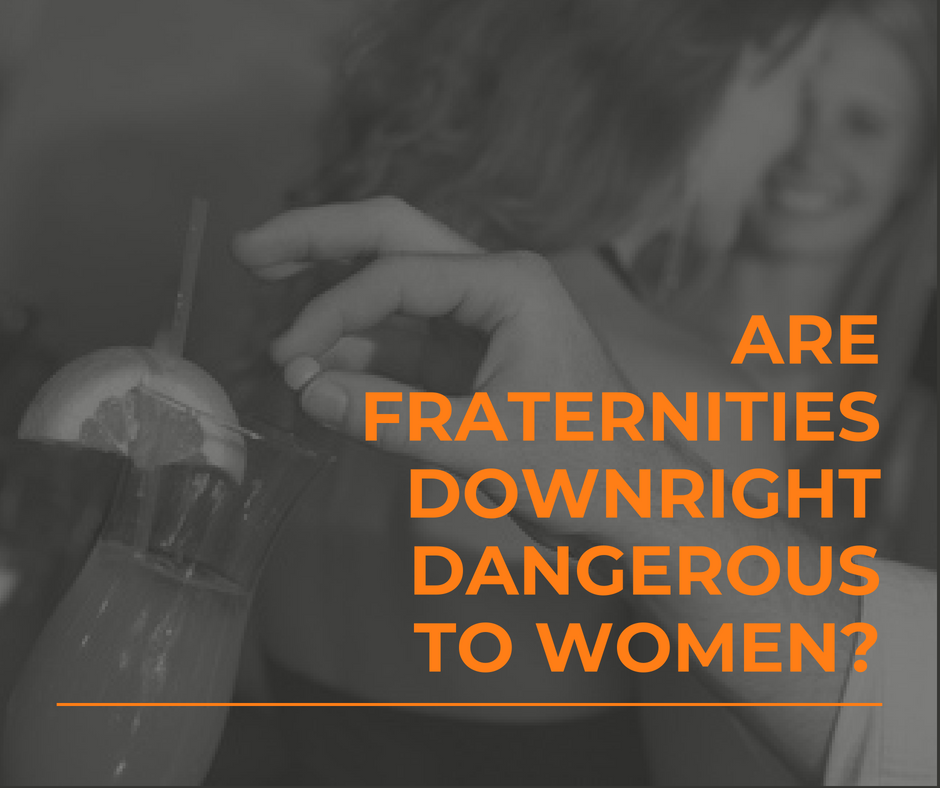 Beware, North Carolina college women. Some colleges can be a place where common risks range from overdosing on drugs or alcohol to physical threats such as sexual assault or date rape — especially for those involved in Greek life. Over the past year, shocking numbers of fraternity members have been arrested on drug, alcohol, and weapons charges – some so serious and pervasive as to cause the fraternity houses to shut down entirely. The arrests expose a potentially dangerous environment for female college students, many of whom are unaware of the hazards lurking behind those doors. While stories of hazing and excessive drinking have become commonplace, the recent arrests expose much more sinister behavior – perhaps even designed to endanger women.
Heads up fraternity brother – you're on candid camera. Just this spring at East Carolina University, Phi Kappa Tau members were arrested on weapons and drug charges, based on allegations of having guns and guns and a shocking 2,500 Xanax bars. Xanax, a benzodiazepine, treats anxiety and panic disorders but is often abused to the point of causing overdoses. Xanax has also been cited as a date rape drug.
The mugshots of the arrested men – who bear seemingly innocuous names like Grant, Jordan, and Nolan – reveal a preppy, well-groomed crowd easily mistaken for southern gentlemen. Women, don't let the bowtie fool you. Please do not assume that any fraternity is safe. It may be, but you must be careful and check behind the fraternity's rhetoric.
Just over the past year, ECU has shut down five fraternities, and that school is not alone. At UNC-Charlotte in May 2018, a woman was killed after falling from a bus during a party hosted by Kappa Sigma Fraternity. In 2015, a North Carolina State University woman accused Alpha Tau Omega fraternity members of drug sales and sexual assault. Of course, the fraternities nearly always deny the allegations against them, but the trend of increased accusations has become troublesome, if not downright scary. Fraternities recently shut down or suspended:
Tau Kappa Epsilon (ECU)
Sigma Alpha Epsilon (ECU)
Delta Chi (ECU)
Sigma Phi Epsilon (ECU)
Delta Sigma Phi (NCSU)
Sigma Phi Epsilon (UNC-Charlotte)
Delta Chi (UNC-Charlotte)
Lambda Chi Alpha (UNC-Charlotte)
While the above fraternities have suffered ruined reputations and worse, what about the hundreds of other fraternities still operating as usual? For their own protection and for the sake of potential future victims, both women and men on North Carolina college campuses should continue to report fraternity violations and behavior that endangers guests invited to fraternity houses. College women should be especially vigilant to watch for and report dangerous drugs and weapons.
The Clery Act requires colleges and universities receiving federal funds (that's nearly all of them) to report crimes on their campuses. While some students and parents know to look for these statistics, they can miss crucial information if the crimes occur on fraternity properties, which may be considered "off campus." So please be vigilant, don't go to fraternity parties alone, and if you are in a group, don't leave anyone behind! Be careful of the man who listens to you at a frat party with intense interest. He may very well just like you, but then again he may have crushed a Xanax bar into your drink.
The experienced litigation attorneys at Copeley Law PLLC regularly represent victims of crimes and are concerned about women who may be endangered by North Carolina fraternity behavior. If you believe you, a friend or family member has been the victim of a fraternity crime, contact or call Copeley Law PLLC at (919) 627-1356 for a personal consultation.
We even have a Podcast! Copeley Johnson & Groninger's Valerie Johnson and Leto Copeley are the Law Sisters. Mixing legal information with entertainment, The Law Sisters give important safety and legal information and discuss all things sex in the workplace. Click on the image to listen to Episode 14: What to do if You're the Victim of Sexual Assault with Dr. Brown.